Working On Your Soft Skills
What are soft skills?
Soft skills, also known as non-technical skills, are character based, interpersonal skills that signify well rounded people. They tend to be undervalued and more difficult to learn than hard skills (technical skills) as well as being difficult to evaluate and measure.
Skill and aptitude tests and other methods of candidate assessment are slowly becoming more popular with employers. They gain a better understanding of a potential employees' strengths and weaknesses as well as their preferred learning methods. They also acquire an insight into how well an employee may fit into their company culture.
Not only are they important in your professional life, having strong soft skills benefits you in your personal life as well. For example, working on your communication skills leads to healthier communication within your personal relationships. Emotional intelligence and conflict resolution are also key to building and maintaining healthy relationships in all aspects of your life.
What are some of the most wanted soft skills?
Communication
Possibly one of the most important soft skills, communication is essential. You don't have to be incredibly sociable to have good communication skills; the ability to approach someone and express your opinion is key in a business environment. Similarly, choosing the correct communication methods for the right situation and being able to comfortably communicate with people from all levels of seniority is valued by employers. There are other skills that fall under communication:
– listening, negotiation, public speaking, reading body language, writing skills
Critical thinking
Being able to use logic and creativity to come up with solutions and ideas is a skill appreciated by employers. It is especially beneficial in a group environment, where people can share their different perspectives and bounce ideas off one another. Employees who offer creative solutions and can think outside the box are valued in the workplace. Other skills that fall under critical thinking include:
– adaptability, creativity, logical thinking, problem solving, research skills
Leadership
Often in demand, particularly in management roles, leadership is greatly valued as almost half of all people who quit their jobs leave due to poor managers. Even if you don't see yourself as a leader, leadership skills are still important to possess. In areas where you excel, taking the initiative and feeling comfortable enough to lead others and offer your support is a skill desired by employers. Other skills included in leadership are:
– conflict management, decision making, motivating, delegation
Positive attitude
Having a positive attitude is essential to you as an employee to succeed in your role, and your employer to ensure the success of the business. People who have a positive attitude are more likely to succeed. Their mindset and approach to things can influence other employees and create a positive ripple effect within the company. The following skills fall under positive attitude:
– cooperation, respectful, enthusiastic, patience
Teamwork
Possessing the capability and willingness to work with others is essential in most work environments. Being able to communicate, co-operate and function in a team is an indispensable skill to have whether you are an intern, manager, or CEO. Skills included in teamwork are:
– collaboration, diversity awareness, self-awareness, social skills
Work ethic
Having a strong work ethic is a great indicator of your own success and how well you will perform in a job role. Something all employers look for, having the motivation and self-discipline to complete your work efficiently is a vital skill to possess. Other skills that fall under work ethic include:
– dependability, motivation, independence, resilience, punctuality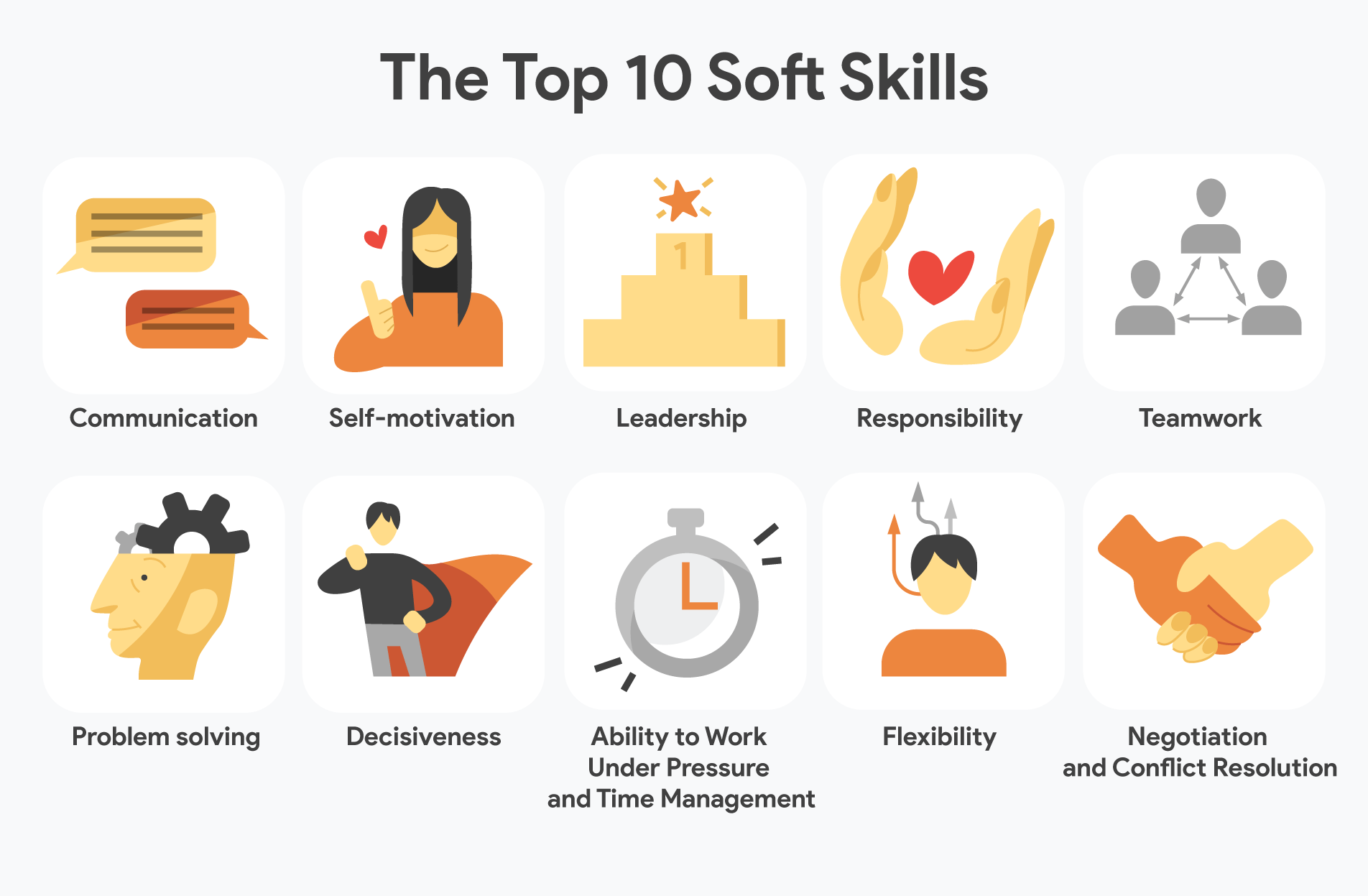 Why should you work on your soft skills?
Indicates longevity
Having strong soft skills indicates longevity in your job role and how successful your integration into the company will be. Skills such as motivation, communication and conflict resolution all point towards your capacity to stay in your role. Long term employment is a huge factor that is considered when hiring and can put you above other candidates.
Career progression and future promotion
You develop the necessary skills for a promotion, and it shows your ability to grow personally and professionally. Having good communication and leadership skills shows you have the potential to progress within your company. Accepting and implementing feedback is a key soft skill that aids in your professional growth and is something that potential employers will appreciate.
Increased confidence
Improving your social and communication skills develops your confidence in your ability to perform well in your job role. Working on your confidence in yourself and your skills also influences your employer and colleagues and persuades them of your knowledge and opinion in the workplace.
Builds your reputation
Having great soft skills builds your reputation as well as your employer's; outsider's perspectives can be influenced thus attracting new clients and helping your business grow. Having great interpersonal skills coupled with the right attitude gives you an advantage in pursuing business relationships, increasing your opportunities to develop your network and industry knowledge.
Hard skills are devalued
Having the correct technical skills doesn't count for much if you can't work with people or function well in a workplace. No matter how qualified you are, if you aren't a good fit for the business, you either won't last long or will not be employed at all.
Customers demand soft skills
Customers and clients desire soft skills as well as the emotional connection on a human level. Nowadays, this is often cast aside and undervalued, particularly with the development of technology and AI. There should be emphasis placed on employees who excel at communicating and interacting with customers and clients as it increases customer satisfaction and loyalty.
Increases productivity
If everyone can work well together and combine their differing strengths to come together to make a great team, that brings a positive attitude to the workplace. Modern workplaces are interpersonal and working on your soft skills ensures that the company culture benefits; a positive working environment is created, and professional relationships are successfully developed.
Transferable skills
Soft skills are transferable, they can be relevant and useful no matter your job role or the industry you work in. Being aware of your strengths and weaknesses when it comes to your skills makes you more adaptable to the workplace and to different roles. This adaptability makes you a better employee and a great addition to your company.
Working on your soft skills will help elevate aspects of your personal and professional lives and drive you to be a more successful and well-rounded individual.