Safe Asbestos Removal
Although asbestos was banned in the UK over 20 years ago, it remains in many of our public buildings. Being an incredibly harmful, carcinogenic substance, it should only be removed by qualified professionals in a controlled manner.
But how do you remove asbestos safely, and where can it be found?
Asbestos was widely used by the construction industry, among others, therefore can be found in many building materials, in properties and in consumer items.
Common places asbestos can be found include:
Roof shingles / panels
Ceiling tiles
Water tank
Insulation
Floor tiles
Cement roof, panels, or gutters
Fire doors
Around boilers and pipes
Textured popcorn ceilings
Electrical breakers
Storage heaters and heating systems
Asbestos Removal
Asbestos is only dangerous when disturbed therefore it's crucial that it is handled and removed safely. Given that there is no safe level of asbestos exposure, it should only be dealt with by professionals who have specialist safety equipment.
There are steps that can be taken to keep people safe when working with asbestos. Keeping dust to a minimum will help prevent the amount of airborne asbestos particles that can be inhaled. Dampening any materials with a low-pressure water spray can help prevent spread of dust.
Using the right equipment and kit is also important. Disposable FFP3 mask and type 5 disposable overalls will prevent asbestos fibres settling on your clothes. After the job is completed, these should be disposed of as hazardous waste and not reused.
Ensuring a thorough clean-up is crucial when handling and removing asbestos. Laying down plastic sheets before starting removal will make cleaning up much easier. Using a damp cloth to remove asbestos fibres will once again minimise the spread of dust, and the only suitable vacuum is a Class H vacuum. All waste should be double bagged, sealed, labelled as asbestos waste and then disposed of at a licensed disposal site.
Materials that are in stable condition may not need to be removed, but it is still important to check regularly for signs of damage.
Homeowners and building owners should be cautious and treat any potential asbestos-containing material as dangerous and avoid them until they can be tested. If material samples contain asbestos, the inspector will suggest next steps and give recommendations.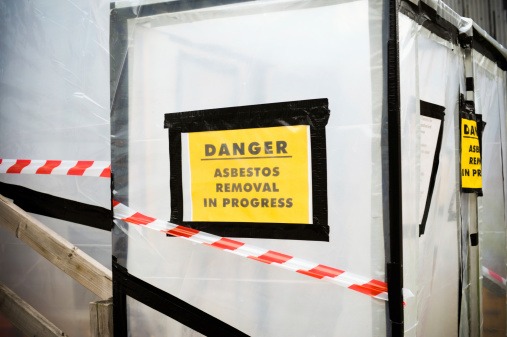 Removal Process
A survey must be conducted in order to identify and confirm the quantity, type, location and condition of any asbestos present.
Contact a HSE licensed asbestos removal contractor
Send over a copy of your survey and receive a quotation
Work will be carried out, a risk assessment and method statement will be created
Book a suitable time for asbestos removal
Site team will come, remove asbestos, and leave the property after cleaning
Final testing will be carried out. A hazardous waste note will be issued which proves safe disposal of asbestos materials as well as a clean air certificate.
The general process is the same however for each individual case some things may differ.
After removal, asbestos is taken to a disposal site, but it can also be recycled. By heating asbestos to a high temperature, it can be converted into silicate glass, a non-hazardous material. There is also further research going into recycling asbestos which would help with the process and cost of asbestos disposal and help prevent illegal or improper disposal.
If you are looking for work in asbestos removal or looking to hire someone, our Environmental team will be able to help you out!